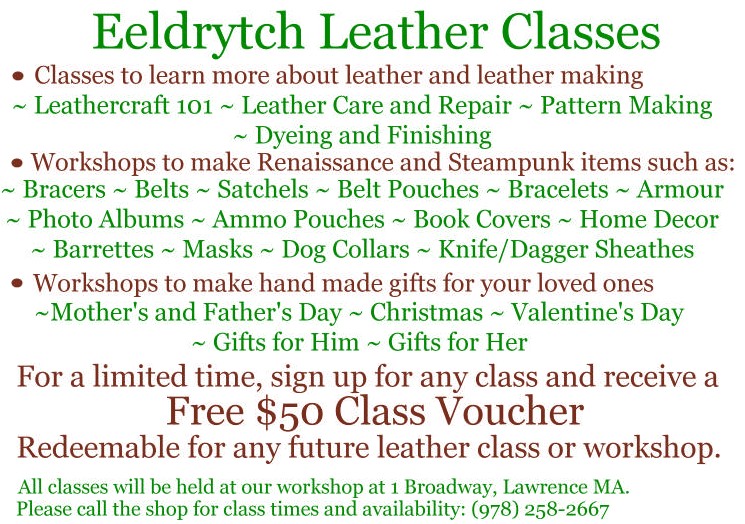 Do you fondly remember the leather bracelet you made in summer camp?
Do you want to know how to make your leather goods last longer?
When someone asks "Where did you get that pouch/belt/sheath?" do you want to be able to tell them that you made it yourself?

Do you want to be able to tell the difference between quality leather and garbage?
Are you interested in learning how to use a hole punch or choose the right rivet for the job?
Or do you just love the smell of leather and want to hang out in a leather workshop for a few hours?


If you answered yes to any of these, then our leather classes and workshops may be just what you are looking for.
Our classes will last for 2-3 evenings and cover the basics of leather and leather working. What does "6 ounce leather" mean? What is oak tanned leather and what does that mean to you? What are some ways to clean and treat various types of leather? How do you tell if a rivet is going to come loose?
Our workshops will be one night each. In a workshop you will be making an item yourself while learning the right way to do things. Bracers, belts, pouches, decorations for the home, gifts for your husband or wife, book covers, photo albums or ammo pouches. If we can find enough interested people, we can have a workshop to make pretty much any Renaissance, Steam Punk or modern item you want.

Classes will be held on Tuesday, Wednesday and Thursday evenings in our workshop at 1 Broadway, Lawrence, MA with additional free shop time available Sunday afternoons if needed.
For a limited time, if you sign up for any class, you will receive a $50 class voucher good for any additional leather class.
To begin, we will be scheduling classes as soon as we get 3-4 people interested in a specific topic so call the shop and let us know what you're looking for and some dates that work for you. (978) 258-2667